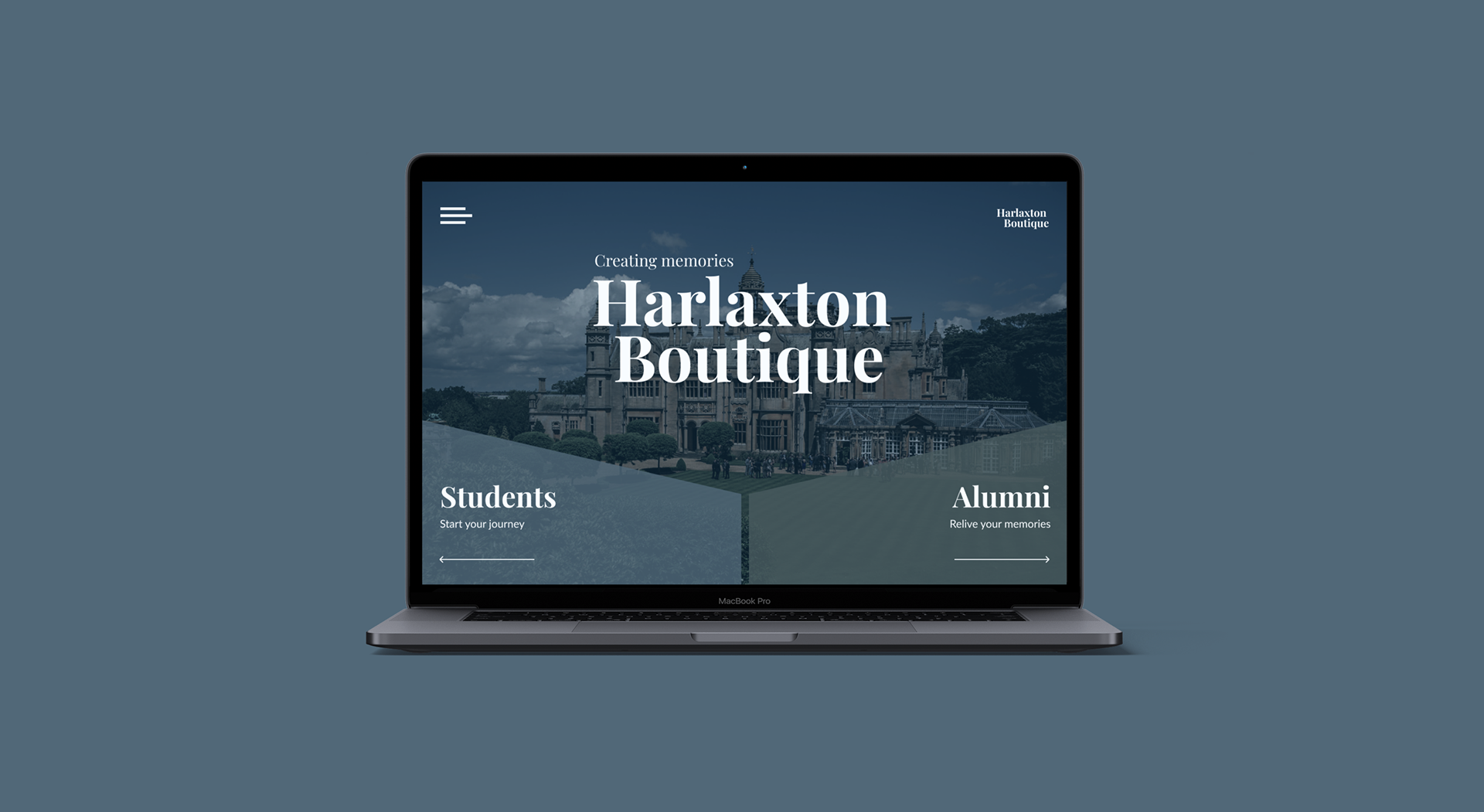 Harlaxton Boutique combines physical and digital spaces to create a seamless shopping experience for students and alumni of Harlaxton College.
Client:
Loughborough University x Harlaxton Manor
My role:
UX Research & Design
Tools:
Miro, Slack, Figma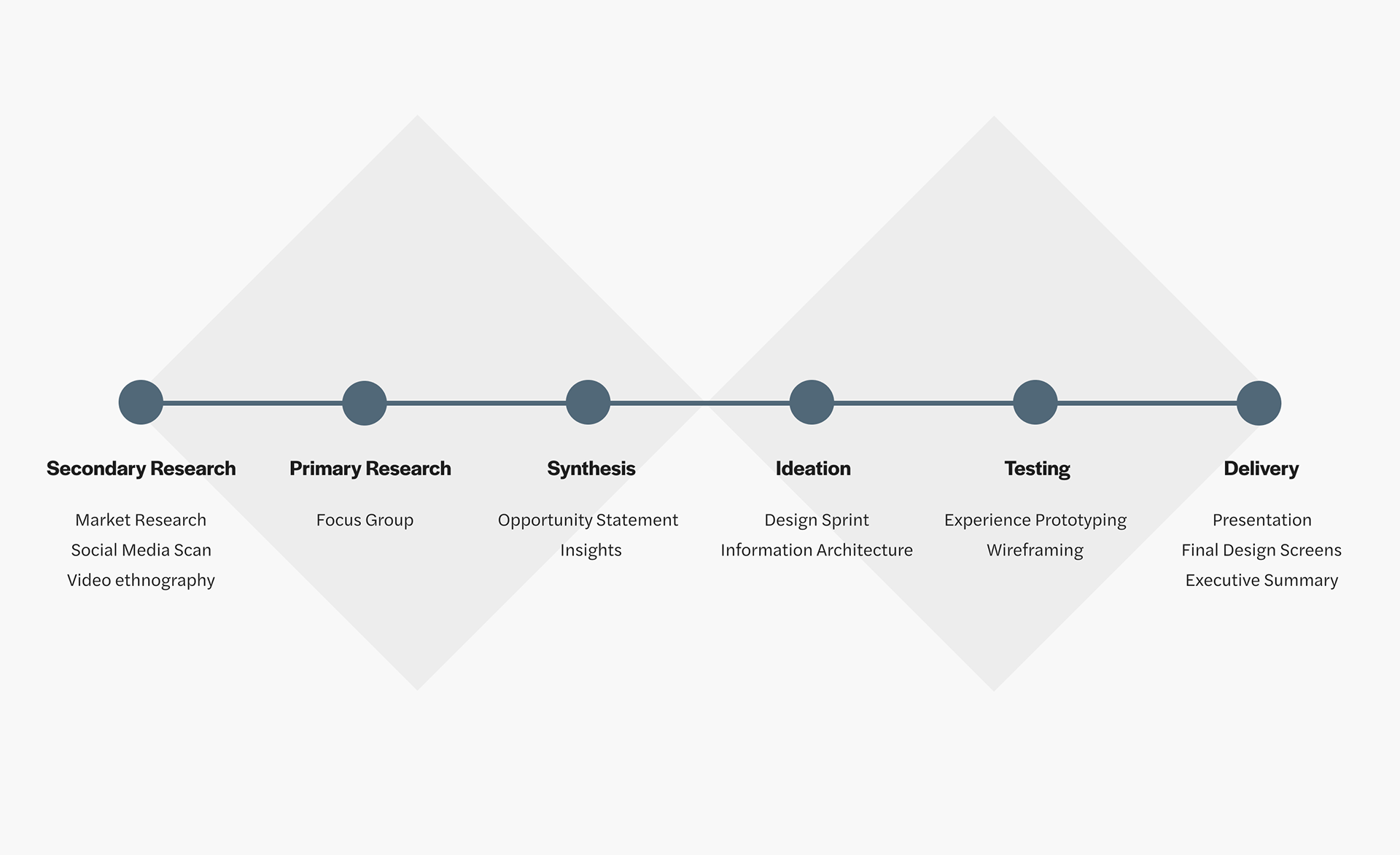 Harlaxton Manor is a dramatic and unforgettable country house set within 300 acres of parkland and gardens. It operates as both a highly regarded study abroad campus, owned by the University of Evansville under the brand of Harlaxton College, and as a venue for weddings and events.
They are planning to relocate their boutique store to a new, larger space in the manor to better facilitate the needs of its students, and to act as a shop frofnt to external guests visiting manor events and workshops. They also need an online boutique to sell merchandise to past alumni.
The original boutique had limited in-store accessibility, and didn't have an efficient way to ship merchandise to worldwide alumnae.
Our task was to
create a meaningful and memorable experience in the new boutique space
through creating a 'heritage feel with a contemporary approach'.
This project contributes towards the 'Reopening Harlaxton' Campaign, which was launched as result of the manor's closure during the COVID-19 pandemic.
For this project, we had to work with three different user groups - students, alumni, and external visitors. 
Our main challenge was to create an experience that will feel coherent and streamlined for all three groups.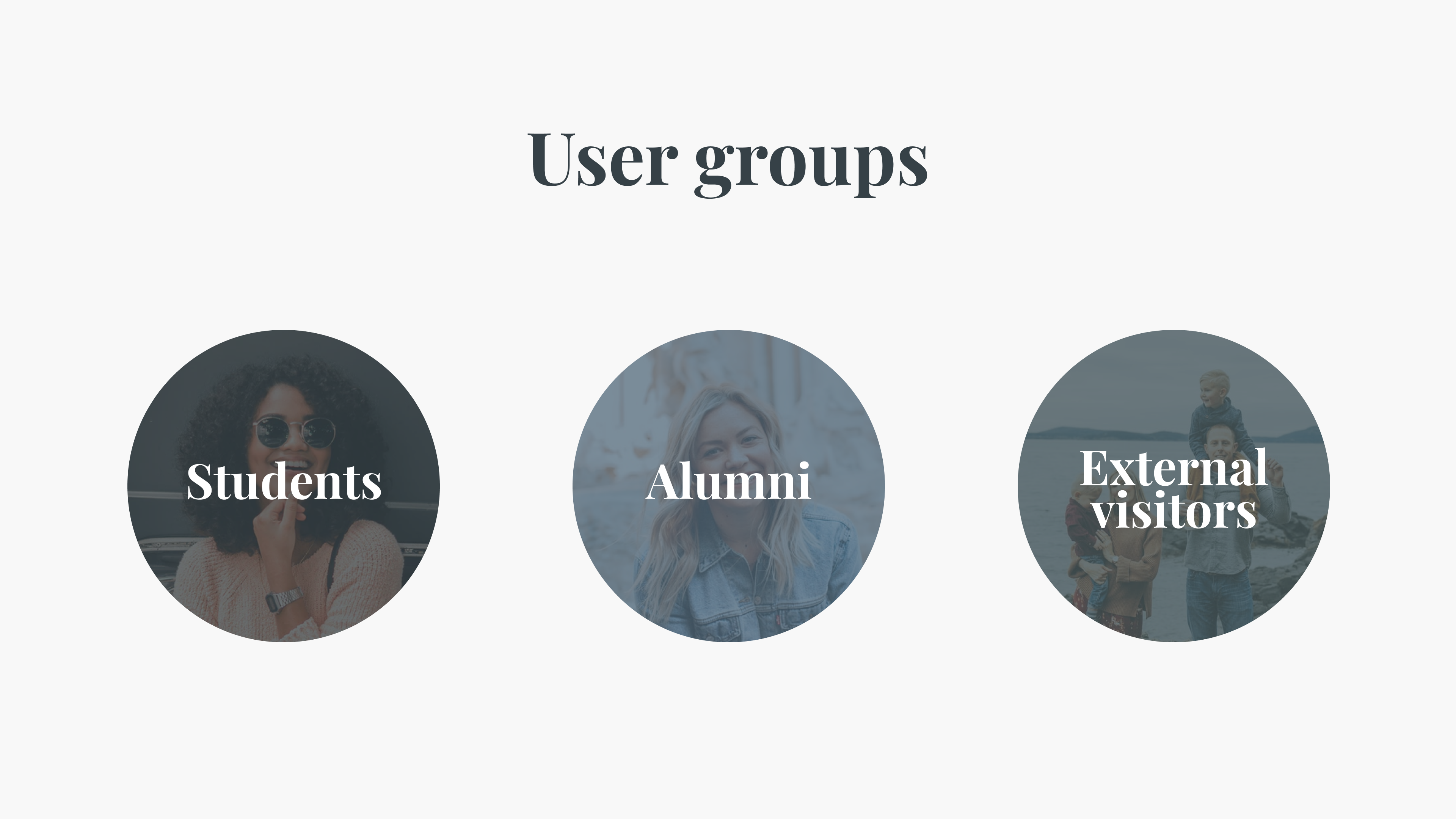 Roles and Responsibilities
We were working as a team of five during this project. My responsibility was scheduling and facilitating team meetings and discussion, managing people and assigning tasks, so that our leader could focus on the big picture. 
My secondary job was leading the online team, responsible for creating the boutique's website. We tackled this project with a blended approach, by combining online and in-person meetings, depending on what was necessary.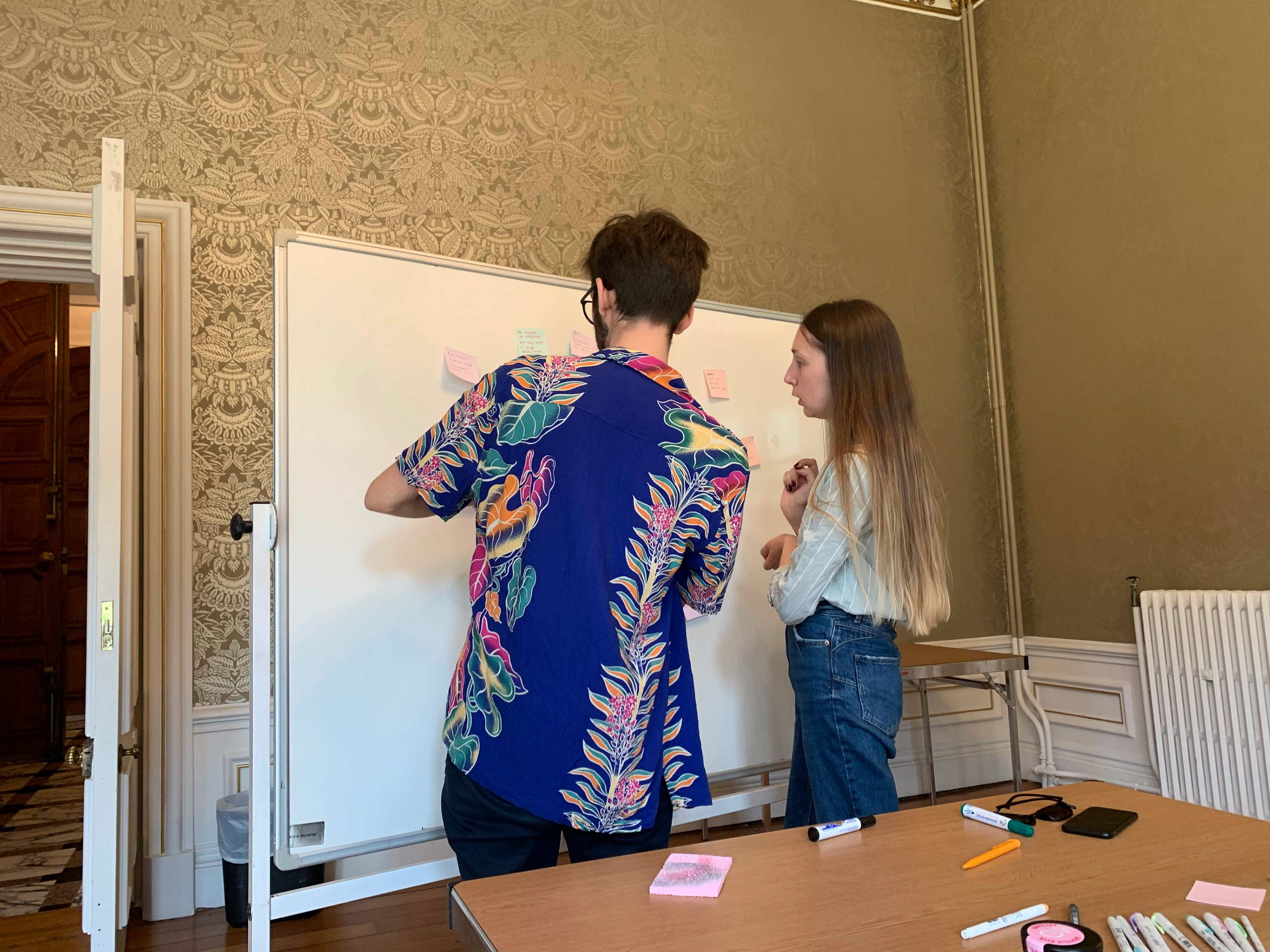 Understanding the problem
Understanding the situation
My team members responsible for research conducted the following activities to narrow our scope:

- Market research to understand the problem from a business perspective
- Social media scan to capture existing attitudes of the existing Harlaxton experience 
- Video ethnography to deepen behavioural understanding of the Harlaxton experience
For this step, I was responsible for conducting the focus group with another team member - specifically, I led the part of discussion about new merchandise and online ordering.
After finishing our research stage we were able to identify the needs of all our users. We've also identified a set of key insights to drive our design process.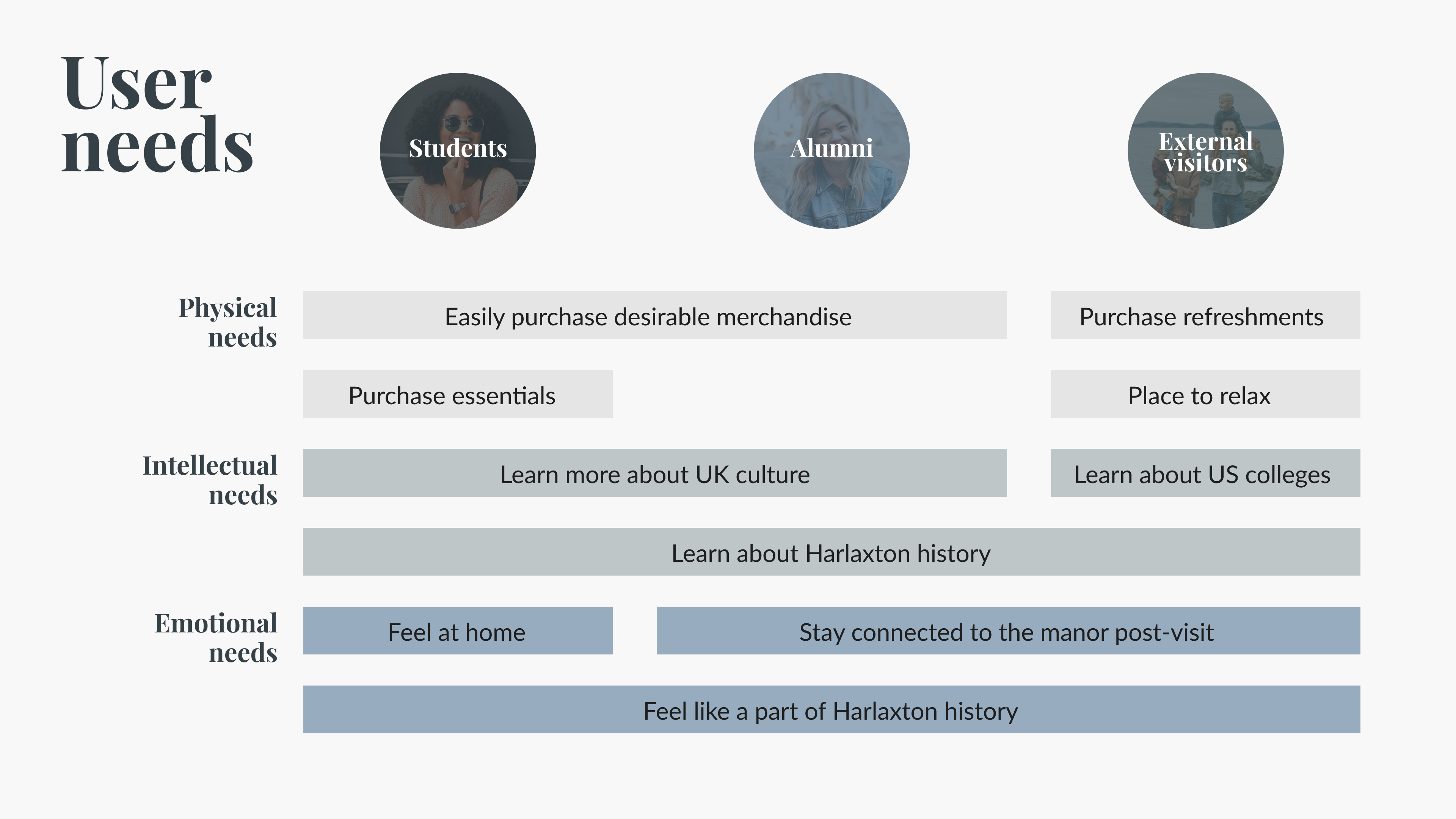 Besides the iconic Harlaxton sweatshirt, students are left feeling disappointed by the selection of merchandise available in the boutique. They only want to purchase items that are relevant to them and worth the money.

Students, visitors and alumni care about the manor's history and heritage. They want to emotionally connect to the Harlaxton story during their visit and be able to take home something to remember their experience. 
For students, Harlaxton quickly becomes a place of comfort, so it is important that the manor is able to meet their practical, as well as experiential and emotional needs. 

Limited opening times and a small shop floor makes it difficult for current students to purchase items they would like from the original boutique, and an outdated ordering process makes international shipping a tedious task.
Having an opportunity statement clearly written out helped us keep focused on the problem at hand. 

How might we tell a unique and immersive Harlaxton story within the boutique experience which lets visitors and students feel like they're a part of it?
With our research insights, we started mapping out the online experience by creating the information architecture. Having a skeleton of the website in front of our eyes, with new products and sections present, helped us visualise how the online boutique should work, and also sped up the wireframing process.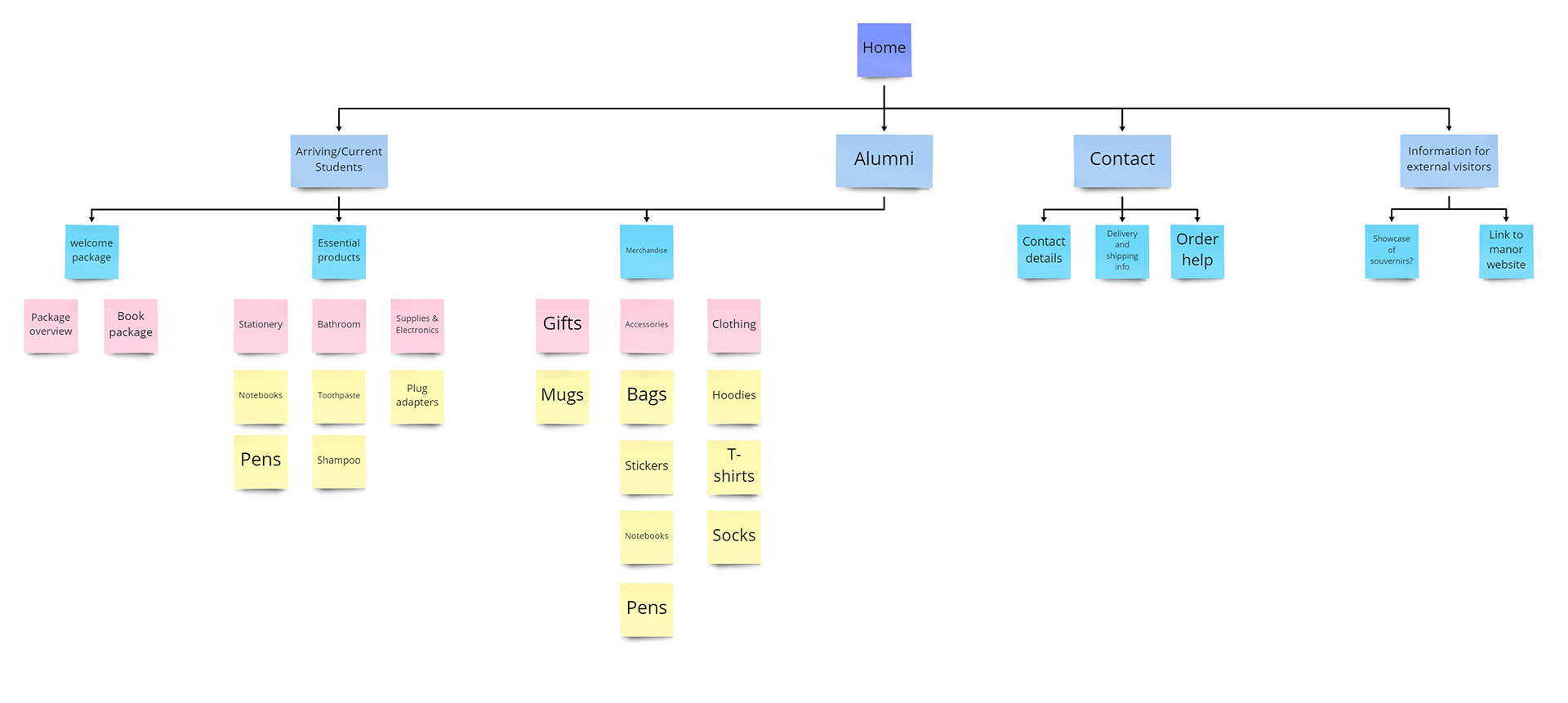 During this step, we translated the information architecture to actual low-fidelity screens for quick testing. We created only the necessary pages required to test the main function of the website - shopping for products.
At this stage, we realised that we need to separate the student and alumni experience - that's why on the homepage, users are presented with a choice to visit either student or alumni page.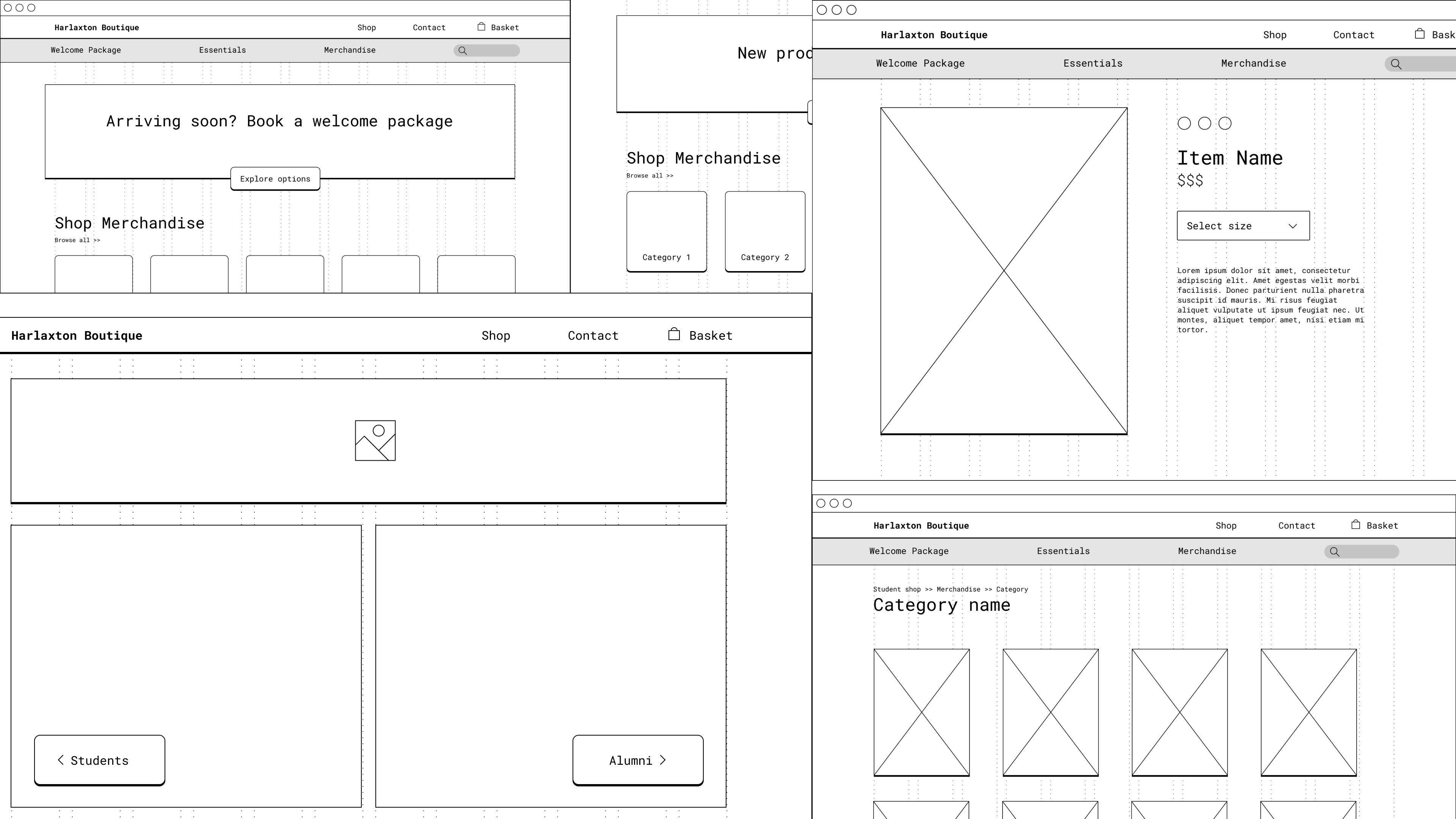 Making the boutique unique
At last, it was time to create mockups of high fidelity screens by combining wireframes with the brand guidelines received from Harlaxton's marketing team.
Responding to the client's feedback, we simplified the look and made it more in line with current web design trends. This approach helped highlight the uniqueness of the manor itself, and it made sure that their website will remain relevant for at least the next five years.
Connecting the website with the physical store
While the work on the online boutique was done, we still needed a way to link it with the physical space. To make it happen, our team opted for an omnichannel approach, that will combine experiential retail and e-commerce to create a seamless and memorable shopping experience.  In short, The physical boutique captivates the heritage of the manor through integrated storytelling, and the digital boutique accommodates international and domestic customers by providing an accessible online store to meet the high demand for Harlaxton merchandise.

To better communicate our concept, we've created a customer journey with all the stages and touchpoints easily identifiable. It also shows how students can interact with locals  in the physical boutique.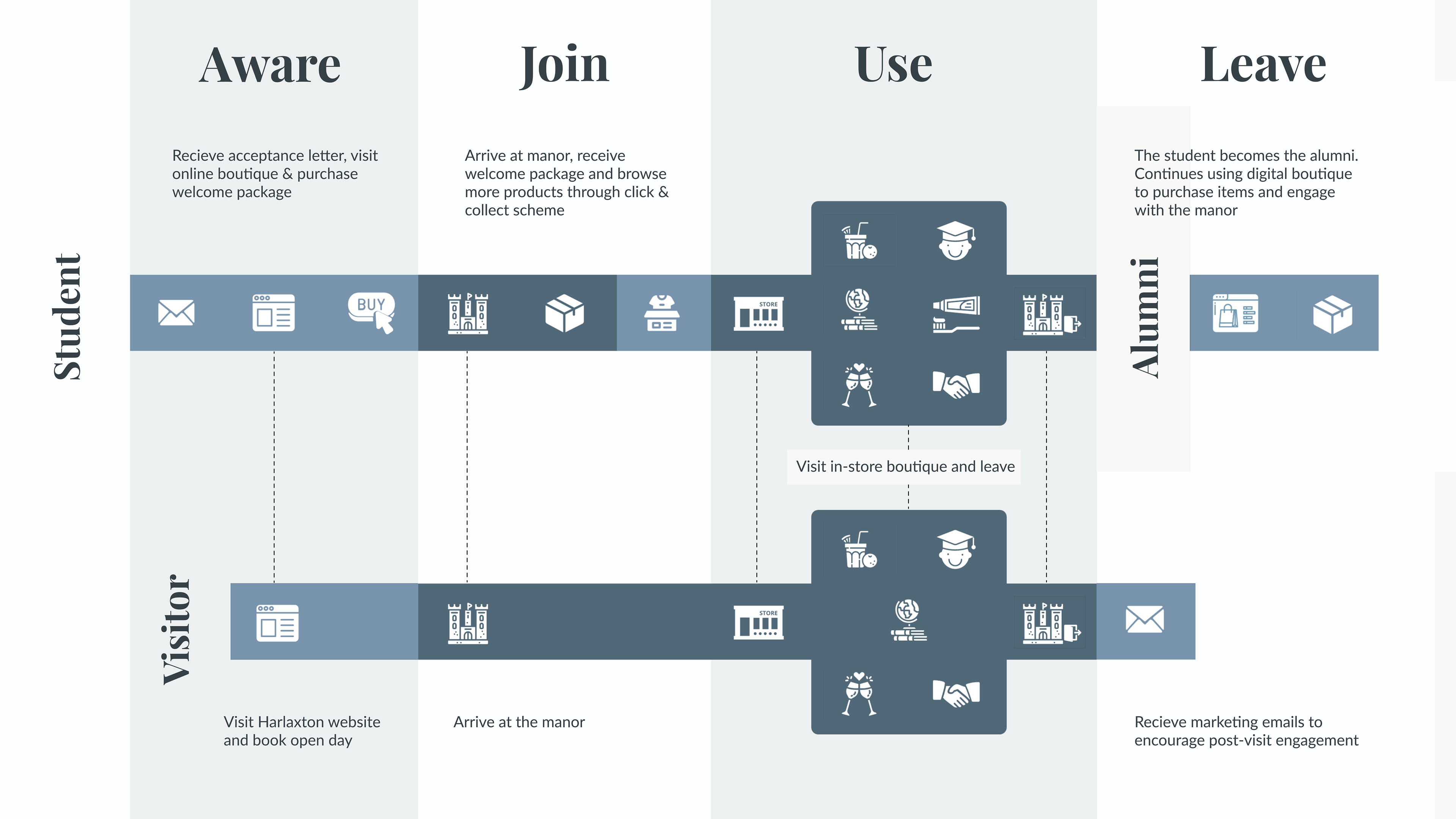 We've provided the Harlaxton team with all the necessary tools to create the best shopping experience for their users. At the moment, the biggest challenge would be sorting the back-end - finding merchandise suppliers and stock management services, as well as developers that will turn the high-fidelity screens into a real product.
Working with a client proved much more challenging than a personal or university project. However, while hard, it proved to be an amazing learning experience. Knowing how to effectively communicate with stakeholders and justify design decisions is invaluable for every designer.